Quinault Tribal Police Department
The Quinault Police Department is located on the Quinault Indian Reservation and serves to preserve peace and provide law enforcement services to approximately 3500 tribal members living in three communities on over 208,000 acres within the exterior boundaries of the reservation. The Police Department is located in the Taholah Village near the mouth of the Quinault River and supports not only Law enforcement operations, but also a full service jail facility, Emergency Medical Services and Animal Control / Code Enforcement services to form what is known as the Public Safety Program.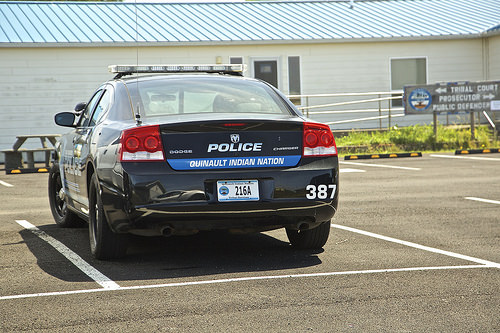 The Mission of all within the Public Safety Program is "To care for our people and Nation". In short, each of our staff strives to make every decision based on caring for each person. We believe that in doing this, we will enhance our services to the community and better become a part of the community instead of being a part from the community. Together we will learn from each other how best to meet the needs of our nation. Currently the Public Safety Department is staffed with seven Patrol Officers, two Sergeants, one Lieutenant and the Chief. The Jail is staffed with seven Corrections Officers and is currently supervised by one of the Law Enforcement Sergeants. EMS is supervised by one Manager/Paramedic, one full Paramedic and three full time EMT's along with numerous volunteer staff to support emergency responses. Animal Control/Code Enforcement is staffed with one Supervisor and an assistant.
Chief of Police: Mark James Mark.James@quinault.org
Lieutenant : Ron Belcher RBELCHER@quinault.org

For employment Opportunities with the Quinault Police or Corrections Departments please visit the Quinault Nation Human Resources web page at http://www.quinaultindiannation.com/jobs.htm or contact Lieutenant Ron Belcher at (360) 276-4423 for more information.